The story of Teräsmyynti Suomi Oy
Once upon a time, almost 30 years ago, Timo fell in love with iron. He had a will to meet what was a growing demand and a desire to provide a first-class customer service — this is how Teräsmyynti came about.
As Teräsmyynti grew, more tough guys were needed. However, men of steel are not simply born, but grown, and with us it is a joy to grow. Good humour, relaxed, no unnecessary finesse, but genuine work with a good feeling — that's what the tougher crowd is like. The group behind Teräsmyynti.

We are a tougher partner, because the world needs factors that stand upright. We have a passion to develop and grow. Our mission is to sell steel and we like to saw, and this is how we are also able to say no to waste.
We don't sell scraps that will sit unused in the corners of factories and workshops. When you require a shorter piece, we will gladly deliver the desired quantity, sawn to the right size, and we will use all surpluses ourselves. That's what we call customer service.
Versatile and hard working professionals are not born, either. It is something that we have worked hard for, an objective that we still work towards today. Every day we renew our promise to be your tougher partner.
If something should be said, it is said.

If a decision should be made, it is made.

It is our heritage — It is the heritage of Teräsmyynti.
Teräsmyynti Suomi Oy is a current strong expert in the field
Nowadays, Teräsmyynti Suomi Oy employs around 20 iron professionals. Our turnover is around nine million euros. Teräsmyynti is located in Jyväskylä, in the centre of Finland.
The company was founded by Timo Lehtimäki in 1995. Timo owns most of the company, with Timo's daughters Solja Lehtimäki and Tiina Ruusala joining in 2019. One family owns the company and we wish to preserve the values of a family company.
Our customers are companies from various fields, e.g. machine shops, industry, industrial maintenance, construction businesses. Sales from business customers account for 98% of our turnover and we annually deliver about 10,000 orders to customers all over Finland.
We serve consumers at a pick-up yard and via our online store. Sales to private customers comprise 2% of our turnover. The address of our online store is www.rautaanetista.fi.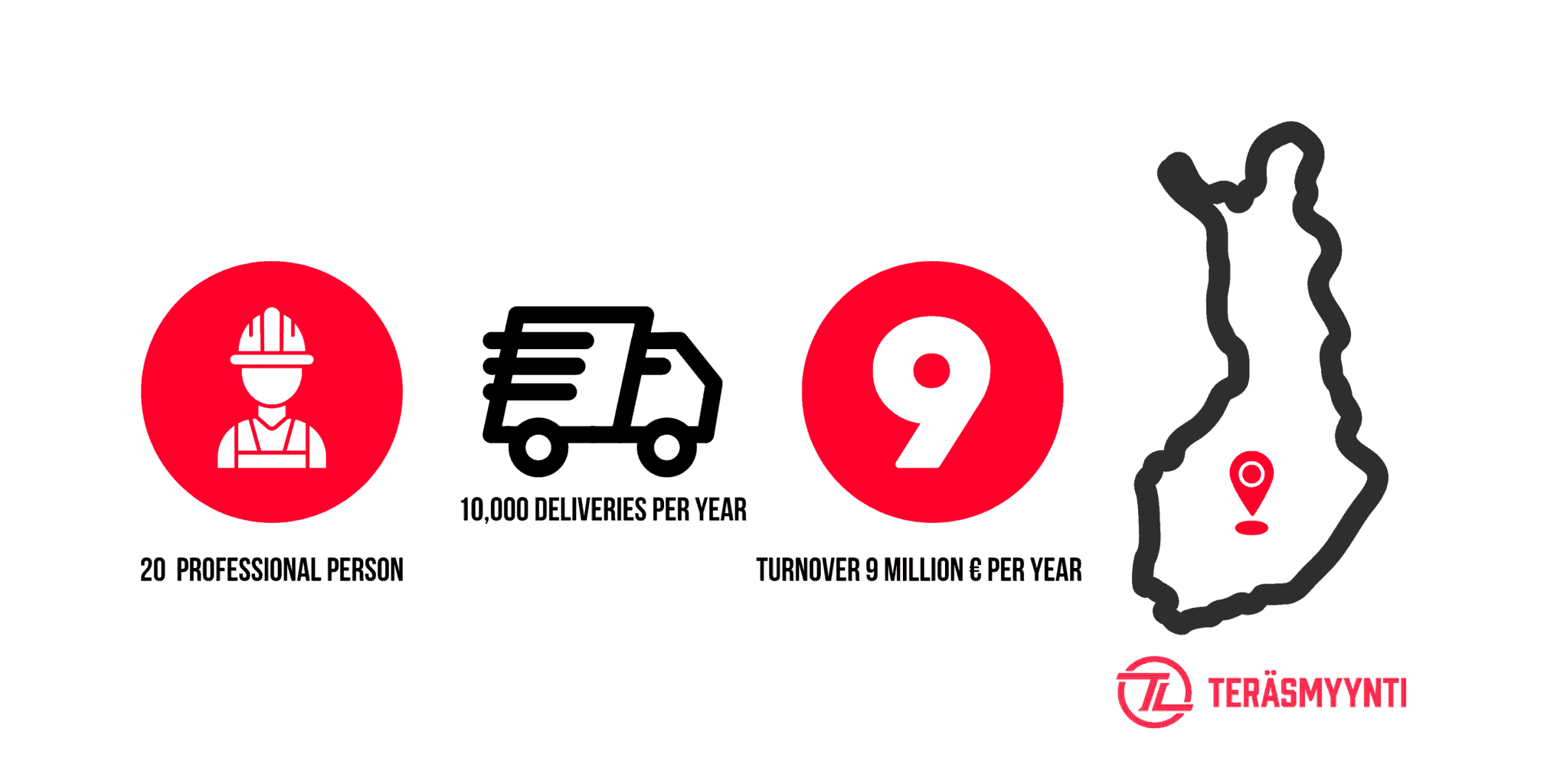 Our sales warehouse and office are located in the same yard. We have more than 2000 product items in our warehouse and the value of our warehouse is around 1.7 million euros. Due to the diversity of our warehouse, we can serve customers extensively with different materials, shapes and steel qualities. We import more than half of the steel that we sell ourselves and, thanks to the imports, we can provide our customers with competitive prices and good product availability.
In addition to the sales of steel, the production of our company also includes plasma cutting and water jet cutting. We have around ten saws for the purposes of sawing steel. We want to saw steel to the exact dimensions required by our customers, because we think of it as a service and one that we are specialised at. In 2022, we carried out more than 74,200 custom-made sawings for customers.
Contact person for overseas purchases
Sales manager Kristian Afflekt is responsible for our company's foreign purchases.
We are happy if you want to be our partner and we ask you to contact Mr. Afflekt.
master chief
Kristian Afflekt
| kristian.afflekt@terasmyynti.com | +358 400 651 843 |
More information
Link to financial information, click here.
Link to invoicing instructions for overseas joint partners, click here.
Link to reliable partner service, click on the green logo.